Wheatland J1 School District
"Innovating, Engaging, Creating and Connecting"
Philosophy
We believe that the future will make great demands on the abilities of every person in our country. Meeting those demands will require a level of excellence greater than required in the past. The school shares the responsibility to achieve excellence by helping each student develop according to his/her unique talents and abilities. By continually striving to achieve the goals we have outlined, we assure that every student will have the opportunity to realize his/her potential and to achieve the level of excellence necessary for the future.
We further believe that the quality of school is greatly determined by the quality of the total staff. With that in mind, the district seeks to attract well qualified personnel and support them with continuing opportunities for training, excellent facilities, current instructional materials and teaching aids, and competent pupil personnel support.
Finally, we believe the educational program is an on-going process of evaluation and change, and that this process is the joint responsibility of the school staff, Board of Education, community and students. It is the Board's intent to constantly assess the individual and group progress of children according to a set of goals that focus on academic and intellectual growth, social and cultural growth, physical and emotional growth, and civic responsibilities. The following is a copy of the board goals document.
The model we have chosen to illustrate the Wheatland's Continuous Improvement Model is the Flight to Excellence (below). The goal in creating this model was to facilitate dialogue around student achievement and continuous improvement process as we engage all stakeholders.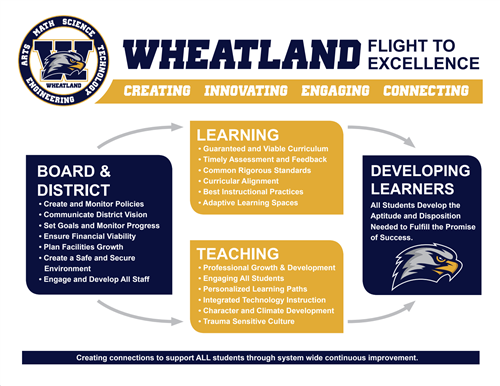 Curriculum and Programming
WCS offers many choices for your children in the area of fine arts including Band, Music, Jazz Band, Marching Band, various Chorus Ensembles and Art classes. The school offers a continuous K-8 Science, Technology, Engineering, and Math (STEM) curriculum. The combination of our STEM programming in addition to our emphasis on the arts, makes us one of the premier STEAM elementary schools in the country. Our students are provided with technology resources that are appropriate for their development. Grades Pre-K through 3 are provided with iPads and laptops for class projects and center work. They also have unlimited access to an additional computer lab and a mobile laptop cart. Students in grades 4-8 are each provided with their own laptop that they use at school and home. This enables us to provide equitable access to all students, and it allows our teachers and students to take full advantage of all instructional resources and tools that are available. Our after school programming offers many opportunities for all students including tutoring, clubs and athletics. We do not cut students from any of our programs, so all students can participate at their level. We also have a robust offering of adult courses through our Community Education program.
Location
WCS is located close to the cities of Lake Geneva, Burlington and Paddock Lake and about 20 miles west of Kenosha on Highway 50 in the town of Wheatland. The school provides elementary schooling for the town of Wheatland and parts of Randall, Salem and Brighton. If you would like to learn more about Wheatland School District please contact the school office at 262-537-2216. We would love to speak with you and take you on a tour of the school.