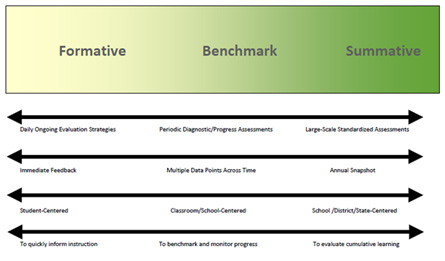 Universal screening is a process in which data from multiple measures are analyzed to determine whether each student is likely to meet, exceed or not meet benchmarks or grade level standards. Universal screening can be constructed for both academic and behavioral purposes.
Screening is completed through a series of assessments administered to establish a baseline or starting point for each student. Data collected from universal screening is used along with data collected by classroom teachers to determine instructional needs and adjust accordingly. No single piece of data should be used to make determinations within an RTI system; rather multiple measures and types of data should be collected to assist in the decision making process.
The following table outlines tools that are currently used as screeners at Wheatland:
PALS

Classroom Assessments
Progress monitoring is a process used to assess a student's academic or behavioral response to an intervention. Progress monitoring can be formal (quantifiable, norm-referenced tools) or informal (teacher-developed, formative tools) and can be implemented with individual students or an entire class. The frequency and formality of progress monitoring will increase with the intensity of an intervention. The Wheatland School District uses AIMSweb to monitor progress of students who are placed in academic interventions for reading, writing and math.
Universal screening and progress monitoring are central to an RTI system for all students. Progress monitoring becomes more intense the closer a student moves toward a possible referral or evaluation process to determine the presence of a specific learning disability. As a rule, the criteria of progress monitoring tools becomes more stringent to ensure strict consistency, fidelity and reliability (Wisconsin RTI, 2010).